King Lake Cellars is a boutique winery nestled in the hilltops just outside of Duvall, WA. We source our grapes from some of the finest vineyards in the Columbia Valley and transport them to our 26 acre farm where wine making is a fun, festive family affair. We are committed to our farm to table lifestyle and are passionate about sharing great food, exceptional wines and priceless memories.
Our head wine maker, Khaled Shawish has been making wine since 2005. Back in those early days it was just him and his dog Zoom, running free,visiting vineyards and sourcing grapes in tiny batches to make 5 gallons of wine at a time in Khaled's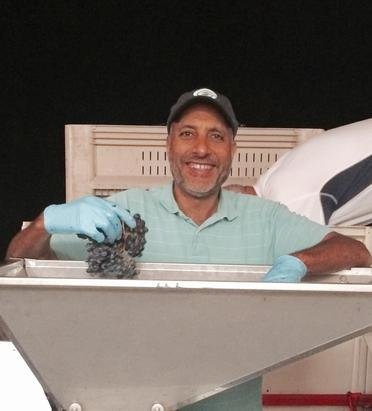 basement. Khaled (and Zoom) spent years sniffing out the perfect fruit and honing "their" skills until King Lake Cellars was eventually born 11 years later.
Khaled's friend and fellow engineer, Greg Guillen, joined Khaled a few years ago as the assistanant wine maker. Greg brings to the table a long family history and lineage of wine professionals and enthusiasts
Zoom the farm dog continues to inspire our wine evolution. As his name indicates and our label commemorates, he is constantly on the run guarding our farm, watching over the long days of production and providing companionship during the long road trips east of the mountains. Julian St.Pierre's artwork captures his constant motion in a series of illustrated stills that you see on our 2013 label.
Khaled, like Zoom, is in constant motion, now a father of 4 he is always on the move chasing after the twins, tending to the orchards, tinkering in the winery, making pizza in his wood fired brick oven or crafting some new culinary interest. Creating beautiful wines is a true love of his, for it can never be perfected. Khaled truly believes that wine is a living, breathing thing, a product of its' environment; as long as it is nurtured and given the perfect environment to mature, it will reward your patience ten fold.